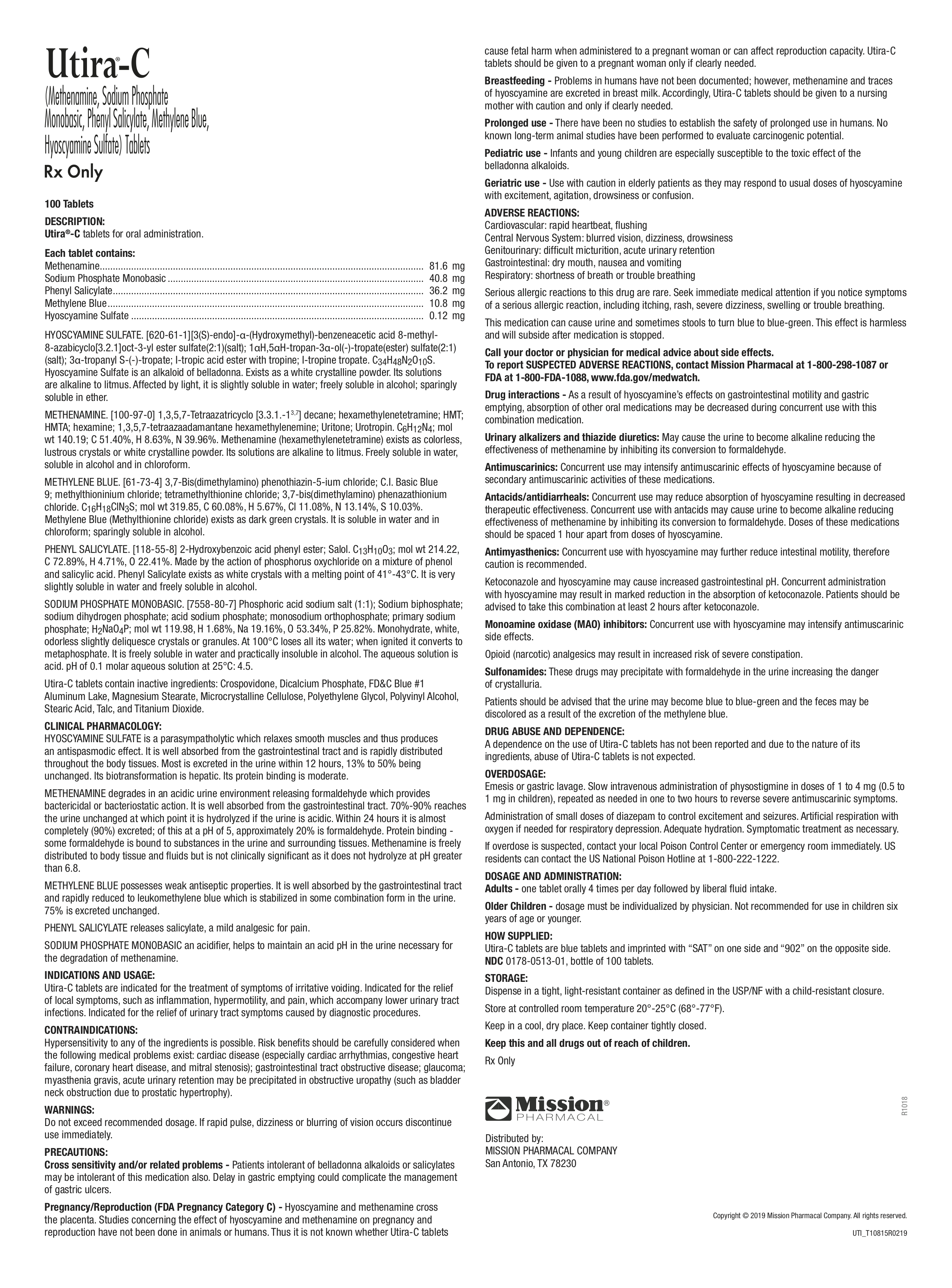 This material is intended to provide basic information and is not medical advice. All medical advice, diagnosis, and treatment should be obtained from your physician. The product information provided in this site is intended for residents of the United States.
© 2020 Mission Pharmacal Company. All rights reserved. Mission Pharmacal Company | P.O. Box 786099 | San Antonio, TX 78230-1355 | (210) 696-8400
INDICATIONS: UTIRA-C®(methenamine 81.6 mg, sodium phosphate monobasic 40.8 mg, phenyl salicylate 36.2 mg,methylene blue 10.8 mg, and hyoscyamine sulfate 0.12 mg) is indicated for the treatment of symptoms of irritative voiding, the relief of local symptoms (e.g., inflammation, hypermotility, pain) which accompany lower urinary tract infections, and for the relief of urinary tract symptoms caused by diagnostic procedures.
Important Safety Information
CONTRAINDICATIONS: Hypersensitivity to any of the ingredients is possible. Risk benefits should be carefully considered with certain medical conditions: cardiac disease (especially cardiac arrhythmias, congestive heart failure, coronary heart disease, and mitral stenosis); gastrointestinal obstructive disease; glaucoma; myasthenia gravis; acute urinary retention may be precipitated in obstructive uropathy (such as bladder neck obstruction due to prostatic hypertrophy).
WARNINGS: Do not exceed recommended dosage. If rapid pulse, dizziness or blurring of vision occurs discontinue use immediately.
PRECAUTIONS:
UTIRA-C® should be used with caution in:
patients who are intolerant of belladonna alkaloids or salicylates.
patients with gastric ulcers. Delay in gastric emptying could complicate management.
pregnant women. It is not known whether UTIRA-C causes fetal harm or can affect reproductive capacity. Only use if clearly needed.
nursing mothers. Only use if clearly needed as methenamine and hyoscyamine are excreted in breast milk.
patients who require prolonged use. There have been no studies to establish the safety of long-term use in humans or animal studies to evaluate carcinogenic potential.
infants and young children who are especially susceptible to the toxic effects of belladonna alkaloids.
elderly patients as they may experience excitement, agitation, drowsiness or confusion.
ADVERSE REACTIONS:Adverse reactions associated with UTIRA-C include: rapid heartbeat, flushing, blurred vision, dizziness, drowsiness, difficult micturition, acute urinary retention, dry mouth, nausea, vomiting, and shortness of breath or trouble breathing.
Serious allergic reactions to this drug are rare. Patients should be instructed to seek immediate medical attention if they experience symptoms of a serious allergic reaction, including itching, rash, severe dizziness, swelling or trouble breathing.
This medication can cause urine and sometimes stools to turn blue to bluegreen. This effect is harmless and will subside after medication is stopped, however, patients should be advised.
DRUG INTERACTIONS:Because UTIRA-C can alter gastrointestinal motility and gastric emptying, it may decrease the absorption of other oral medications with concurrent use.
Urinary alkalizers and thiazide diuretics: may reduce the effectiveness of methenamine.
Antimuscarinics: may intensify antimuscarinic effects of hyoscyamine.
Antacids/antidiarrheals: may reduce absorption of hyoscyamine; may reduce effectiveness of methenamine. Doses of these medications should be spaced 1 hour apart from doses of UTIRA-C.
Antimyasthenics: concurrent use may further reduce intestinal motility; use caution.
Ketoconazole: concurrent use may result in marked reduction in ketoconazole. Advise patients to take UTIRA-C at least 2 hours after ketoconazole.
Monoamine oxidase (MAO) inhibitors: may intensify antimuscarinic side effects.
Opioids: may result in increased risk of severe constipation.
Sulfonamides: may increase the danger of crystalluria.